MID-20th CENTURY MODERN HOUSES

MID-CENTURY MODERN ARCHITECTURE IS RENOWNED FOR CREATING STRUCTURES WITH AMPLE WINDOWS AND OPEN FLOOR PLANS WITH THE INTENTION OF BRINGING THE OUTDOORS IN. ARCHITECT, EDWARD ROSS, DESIGNED MIDLAND PARK HOUSES AS LOW PROFILE, GROUND HUGGING DESIGNS THAT BLEND SEAMLESSLY INTO THE NATURAL LANDSCAPE. A NEIGHBOURHOOD DISTINCTLY DIFFERENT.

---
MID-CENTURY MODERN HOUSE FEATURE


A Midland Park original feature... quarter-sawn mahogany interior bedroom, closet and pocket doors.
Quarter sawing is a less common type of cut in the rip-sawing of logs into lumber. The resulting grain produces a decorative effect. The mahogany wood is prized for its beauty, durability, and color. These interior doors can easily be an overlooked beautiful feature of your house. They are ultra modern style perfection.

---
Excerpts from support letters submitted with Midland Park's nomination to become a Heritage Conservation District (right).


6 HCD SUPPORT LETTERS.

In 2015, Midland Park was nominated to become a Heritage Conservation District. The community has received several support letters relating to their conservation efforts. The nomination is currently under review by the City of Toronto.

---
---
WHAT IS A MID-CENTURY MODERN HOUSE?

Function was as important as form in mid-century modern designs with an emphasis placed specifically on targeting the needs of the average family. Residential mid-century modern architecture is frequently referred to as the California Modern Style. The architecture is very simplistic and has a close integration with nature. Mid-century modern design emphasizes an abundance of natural light flowing into the home.


The Woodridge placed sideways in lot. Every house in Midland Park was site selected and some modified to fit and fill the space.

Midland Park's mid-century modern houses were designed and constructed in the early 1960's by developer, CURRAN HALL and Architect, Edward Ross. Several house models won Design Council Awards for good design both in plan and appearance.

The Glenwood - extremely rare semi-detached model. Low roof line with integrated carport is the star of this model.

The unique architecture of Midland Park houses has long been adored by those looking for something special in a home.


Architectural elements that can be found in Midland Park houses are those typically found with mid-century modern architecture:

Vertical cedar wood siding
Low, oversized shallow-pitched roofs
Front facade with few windows
Private front facades
Attached carport or garage
Floor-to-ceiling windows or sliding doors opening to a garden or patio
Rectangular windows
Numerous windows
Picture windows with sliders that open to let fresh air in
Clerestory windows which are small and placed high for privacy
Open floor plans
Open-beamed ceilings
Split levels ideal for entertaining, conversation and lounging
Clean lines and minimalist design features such as no frames around windows and thin baseboards
---
AREA MAP


Midland Park is located in Toronto's east end. It is located within the boundaries of Ellesmere Road, Midland Avenue, Donwood Park, and Birkdale Ravine Park.


OUR COMMUNITY VISION

MIDLAND PARK is a safe, vibrant & attractive community of diverse residents, with an appreciation for the community's unique history, modernist architecture and natural environment.
---
THE ORIGINAL FARMHOUSE OF MIDLAND PARK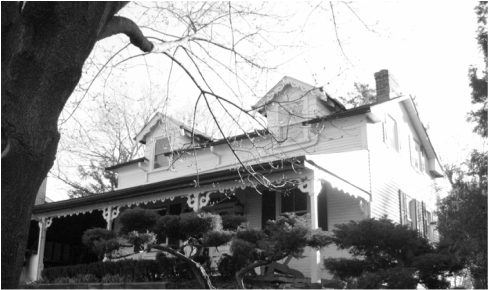 Take a walk along Oakley Boulevard and take a walk down memory lane. At the highest point of Oakley Boulevard you will see the original farmhouse owned by Richard Thomson. This historic house is listed as a heritage building by the City of Toronto.

Richard Thomson was one of eleven children born to David and Mary Thomson. David and Mary Thomson are recognized as being the first European settlers of Scarborough, coming to Canada in 1799. They created their own community in the wilds of Scarborough, similar to their old country of Scotland. For many years, the Thomson family controlled most of the farmland from Kennedy to Brimley/Lawrence to Ellesmere.

---
---
---
BIRKDALE RAVINE
Nature's paradise with ~2 km of paved trail connecting to Thomson Memorial Park.
Enjoyed by runners, walkers, cyclists, nature enthusiasts, and families alike.
---
Visit the streets and gardens of Midland Park